Computers and Printing at the Library

NEW!
We are currently offering mobile print pickups! If you need a document printed, you can follow the instructions below to print and pick up your pages. See instructions for details and pickup hours.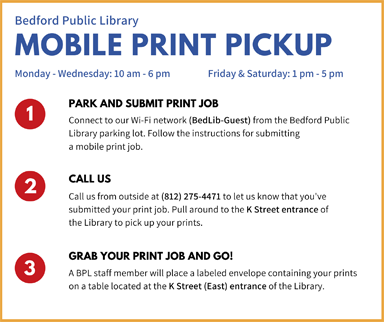 We have a variety of computer and printing options available for you!
If you have your own computer or mobile device, you can use our free guest WiFi. We have high-speed WiFi spots available throughout our Library, and we have numerous outlets so you can plug in or charge while you work.

Wireless Printing

We also offer Wireless Printing for your own laptop or mobile device. You can view printing instructions here or ask our staff if you need assistance.
Public Computers

(Some limitations may apply. Ask for availability.) If you don't have your own laptop or mobile device, we have computers available for adults, children, teens and families. Ask our staff for assistance, and we can direct you to the computer area that best suits your needs. We also have Express Computers available for walk-up use when you're in a hurry. Printing is available from all Library computer areas. Options for scanning are also available.